Walk in Wardrobes - Custom Made & Installed
Walk In Wardrobes and Wardrobe Accessories - Getting Organised
Wardrobes are one of those things in life that we completely ignore if we have a wardrobe that is well organised and satisfies all our needs.
Most people have wardrobes whether they are walk in wardrobes or reach in wardrobes that are not design to be functional and arrange our clothing items easily.
At Wardrobe Systems we provide wardrobes, wardrobe doors and accessories that make the best use of the space you have so your clothes will always be stored and organised properly.
Once you have a decent wardrobe system lost clothing, crumpled shirts, disorganised shoes and the lack of storage space will be a thing of the past.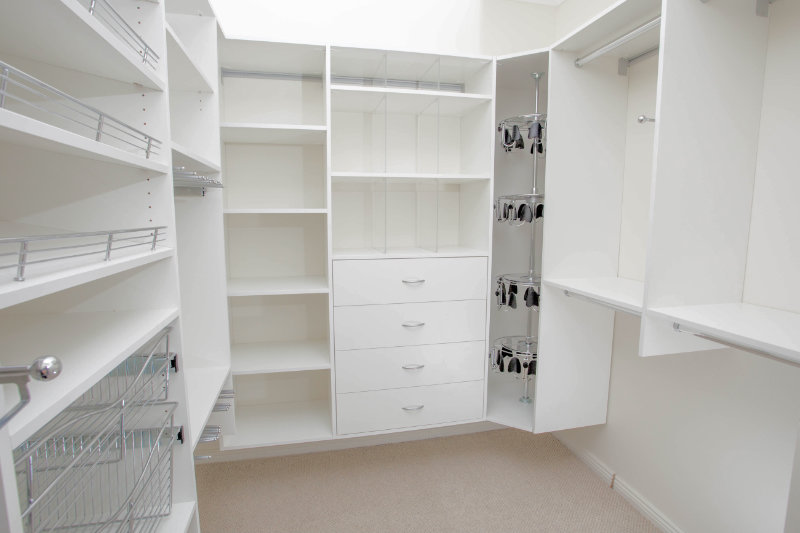 Easy Access

It allows you to have space beneath the wardrobe making it easier to vacuum but also you retain your floor covering without any damage or the need to get a carpet or vinyl expert to realign your floor covering.

Sloping Floors

If your walk in wardrobe area is out of square or the floor slopes this won't effect the wardrobe installation.

Choices & Options

Whether its a walk in wardrobe or reach in wardrobe you have plenty of combination choices such as hanging options, shelving, shoe racks, baskets and more.

Full Length

If you wish to have a full length wardrobe, to the floor, you can have that option as well. 

No Dead Corners

Our system makes sure all the areas in your walk in wardrobe are utilised so you wont have dead corners or any area that can't be used for storage or hanging
Often men and women have different needs when it comes to a build in wardrobe so the first thing we do is plan the wardrobe so everything is organised from tie racks to hand bag shelves, shoes to shirts.
Our wardrobe designs are flexible, easy to follow and come in a wide range of finishes so the choices are all yours.
Tie racks, jewellery cases, belt racks, roll out ironing boards, laundry hamper, shoe organisers, quality hanging rails, spiral clothing racks, shoe organisers and more...
Contact Leigh TODAY If You're In The Greater Geelong Area!
Hi I'm Leigh Robinson manager here at Wardrobe Systems. We provide the latest overseas trends in manufactured wardrobe system that last a lifetime.
Many of the more modern homes come with a wardrobe containing a top shelf, a hanging rail with a complementary dead corners and that's it! We provide a complete wardrobe make over where everything is accounted for with the space you have available.
Contact me directly for a free measure and quote and let's get your wardrobe sorted out for you as soon as possible.
7 Things You Need To Know About Walk In Wardrobes